Wood River 179 Hood River Pod-mods to date. Have 15 inches of snow outside. Got in with the cover on, so can't take the slide out. More pictures to come in the spring.
Exterior
D&W expandable sewer hose holder. Installed right behind the front jacks. Had to maneuver around the gas line on the driver's side frame. Once in, it fits great. Holds the Rhinoflex hose and fittings. Bought a pocket hose at Target that fits in the original sewer hose holder under the battery.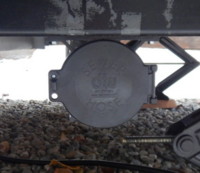 New lock on storage compartment to match Global main door key. One key does it all.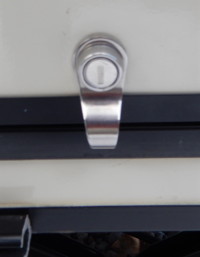 Replaced lock on outdoor shower with simple Camco turn knob. Did need to trim with dremel and sand both sides of the latch to fit in the groove on the plastic cover. No need to lock this.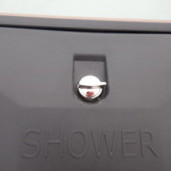 We have a steep incline driveway. Replaced the bolts on the rear scissor jacks and replaced with clevis pins. Now we can remove the rear jacks when coming or going without incident. May also come in handy when boondocking on rough roads.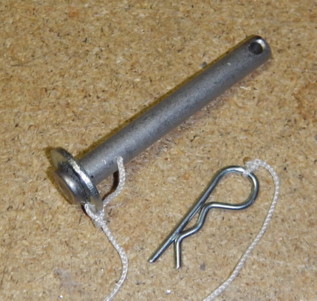 Interior
Added wooden rack and metal shelf on passenger side kitchen. Wooden rack from Target and metal shelf from Amazon. Read lots about attaching things to walls. Didn't want to do velcro or command strips. Understand concerns with screws, but wanted these mounted more permanently. Used some ¾ inch coarse machine screws. Drilled pilot holes and then hand screwed. Careful not to over tighten. Then used caulk squeeze in each hole and re-screwed. They are sturdy and well anchored to the wall. Won't load up with heavy items when traveling. Will be great at camp to free up counter space and be organized.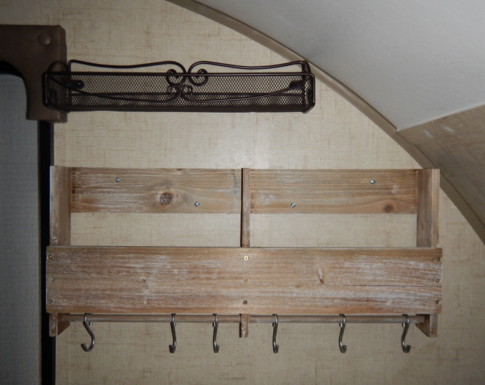 Added metal paper towel holder with shelf and small metal spice rack on driver side kitchen. Both purchased on Amazon. Same installation as above.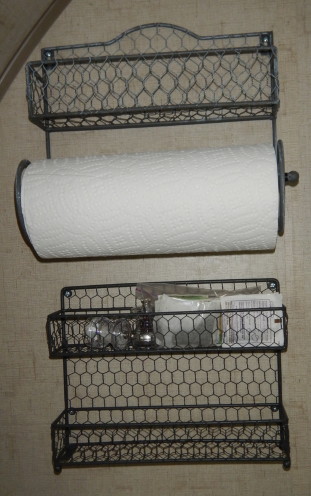 Added additional shelf in upper pantry and stained and installed some wood barriers to keep items in pantry from pushing open door or falling out.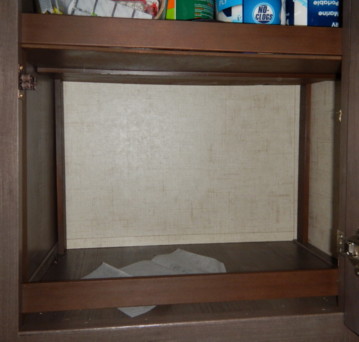 Installed three USB/Cig Sockets for 12v charging and electronic use.
By the kitchen plug driver's side,

By the TV/stereo (pictured)

Down by the bed plug.
Will change out one of the cig sockets for a voltmeter. Also bought some rocker switches to kill power to the blue LED on the USB if it proves to be a battery drain next season.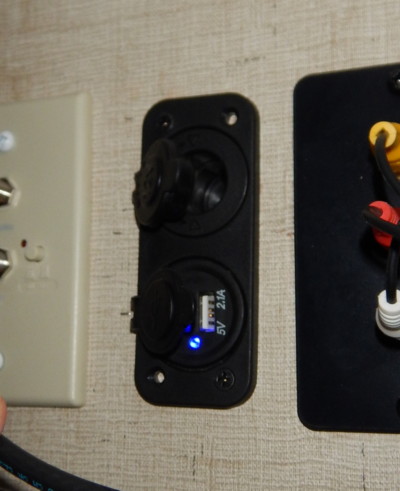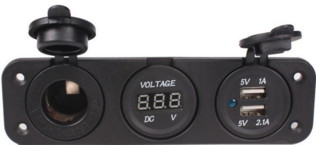 Put the same metal shelves over valences over bed windows and under TV.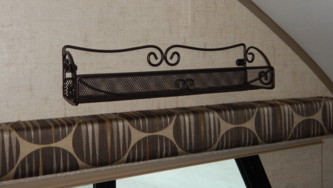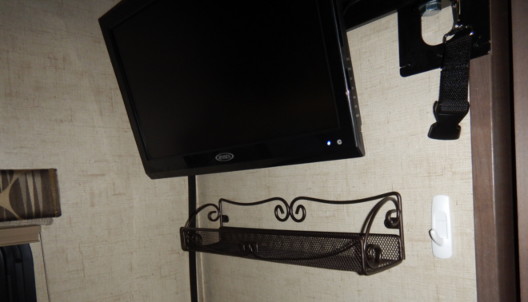 Non-Pictured Mods
Purchased a tilt mount on amazon and installed on the tv arm for vertical tilting. Greatly improves the tv viewing while in bed and at dinette. Had to do a little metal bending to make it fit. StephenH, still working with a local fabricator on that total tilt that was posted earlier this summer.

Cutting board stove cover.

Reconstructed bottom two drawers under kitchen sink to increase depth.

Put a door activated light in the closet.

Covered wire and equipment in the other dinette pedestal to make more room for storage.

Put some non-skid on all the kitchen cupboard shelves.

Did same strap as rynosurfs to keep the cushions on the lowered table in place when making the dinette a bed.

Added some locking brackets on the dual battery case.

Screen covers on vents.

Purchased the PahaQue R-Pod shade awning from RV Supply Shop – but have not yet put it on the pod.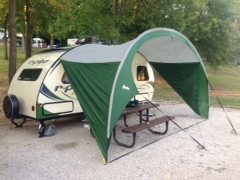 To do list
Really like some of the backsplash ideas I've seen on here.

Increase

depth

of drawers under the closet.

Find or build shelf system for the closet. Prefer sliding bins/drawers.

Slide out cover.

Window in the door.

May install a battery cut off switch.
All of these have been discussed here.
Thank you for all of the great ideas posted here. It's been fun.
Thanks
Smitty