If you don't have a Suburban Installation and Operation manual for your water heater, go to their web site and find it and print up a copy. On Page 5, col. 2 under Draining and Storage, you'll find the instructions.
To drain your water heater, turn off the gas and electricity to the unit. [Note, don't turn the electrical heating element back on until you are absolutely certain you have water in the tank or you will find that you have burned out the electric heating element after about 30 seconds in the on position.] Then you need to make sure it is not pressurized, so disconnect any city water hose and make sure the pump is off. Remove the anode rod and the water will drain out of the tank. Be sure your Pod is parked in a spot where putting 6 gal. of water on the ground isn't going to hurt anything. Before using your water heater again, you have to fill it up. You can do that by either turning on the water pump or connecting to city water and opening the hot water faucets to bleed the air out of the tank. Once the tank is free of air, you can turn off the faucets.
In the picture below, the black anode rod nut can be seen to the right of the red wire in the bottom area of the water heater. You will need a 1 1/16ths" socket and an extension to remove the anode. Click on the picture and you should be able to enlarge it. All the way to the left, under the gas valve you will find a rocker switch to turn the electric heating element off and on. I suggest you leave that off. The switch on your galley to turn on the water heater only works the gas heating function. Read the manual and you can see how it works with the little red light.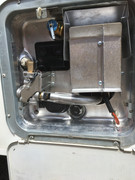 You should look at the discussions about water heaters in the archives. The switches are not logical for the lay person and it's easy to end up burning up the electric heating element.